12 Sales in March and 25 for 2012!
Ray Jackson
Vice President of Sales

Sales at Toscana have been very brisk and we are very pleased to see all of the recent activity. In addition, there are many prospective purchasers in the final stages of their purchase decision.

This year, there have been 25 sales transactions at Toscana. See below for the complete summary:

2 completed new homes

8 New Sunrise Homesites for to-be-built homes

15 Resales

Over $44,000,000 in total volume

We recently acquired a number of new listings and are proud to feature several beautiful homes below as well as a link to our entire selection of outstanding homes.

In addition to participating in resale transactions, don't forget that You can benefit from the renewed interest in homebuilding as well! We have a great program in place to reward Realtors for selling new to-be-built homes: you will be paid a 3% commission on the price of the homesite and the base price of the home at the homesite closing, NOT at the end of construction. Please contact me or one of our Sales Executives for more information.
New Milano Collection 502 Model to Open on 4.22.12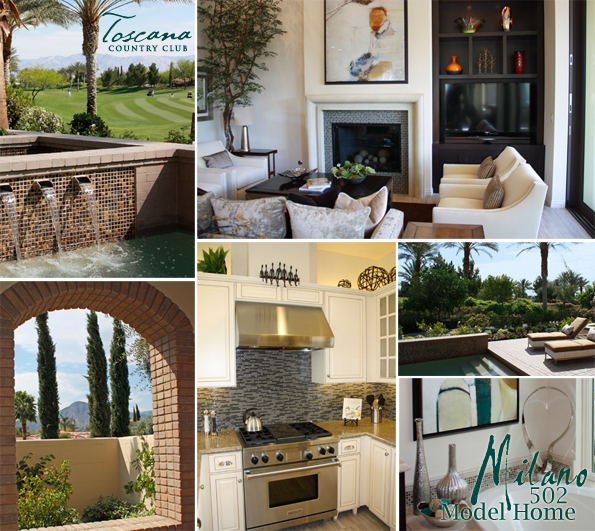 Stop by and see the brand new Milano 502 Model Home! With beautiful finishes, furniture and decorative accessories, this home is a true showcase. It is perfect for your clients who are new to the Desert as second-homeowners or for those who are looking to downsize.

The New Milano Collection features the 501 plan with 2,400 sq. ft. staring at $995,000 and the 502 plan with 2,590 sq. ft. starting at 1,095,000.
JUST SOLD!
| | | |
| --- | --- | --- |
| | | |
| 76-532 Via Chianti ▪ 923 Italianate | | 76-015 Via Chianti ▪ 601 Early California |
| . | | |
New Listings (click on photo to see the home's website)
Our current portfolio includes a wonderful selection of Toscana homes and homesites for this season. We have four full time Sales Executives to serve the real estate needs of our owners in the community. We are here to serve you seven days a week. Please call on us if we can be of service to you at Toscana. Toscana is our only business.
75-860 Via Cortona ▪ 621 Early California
3,260 Square Feet ▪ $1,395,000


76-196 Via Chianti ▪ 621 Tuscan
3,260 Square Feet ▪ $1,375,000

Available Homes
Please click here to see all the homes available through the Toscana Sales Center.
.
Meet the Toscana Experts!
.
These are the top professionals exclusively serving the Toscana community. Our team recognizes it is nearly impossible to be thoroughly knowledgeable about more than one market.....Toscana is our only market! Call a Toscana Expert today - we look forward to sharing our Toscana real estate expertise with you.
.
| | | |
| --- | --- | --- |
| | | Ray Jackson brings a wealth of knowledge and understanding of the luxury market with over 25 years of real estate experience in large luxury resort communities across the United States, Most recently Ray was the Vice President of Real Estate Sales for Kapalua Resort in Maui where he headed their new home and resale divisions. He understands the dynamics of both new and resale markets and has proven success in managing both divisions within one office. Ray's leadership philosophy is to provide guidance, training and oversight to the Sales Team and to be available to navigate sellers and purchasers through the buying process. Ray and his wife Janet enjoy spending time with their children and grandson Jackson. |
| | | |
| | | Charlene Brinson has over 25 years in luxury home sales with 11 in the Desert in addition to a management background encompassing commercial lending, private banking, marketing and sales. Most recently Charlene was a team member leader of The McMonigle Group in Indian Wells. Prior to that, Charlene served as Sales Director/Broker of The Villas of Mirada in Rancho Mirage, a Senterra Real Estate Group property. Charlene brings a passion for the Desert and a strong commitment to providing exceptional service to her clients. Recognized for her leadership, vision, integrity, and overall professionalism, Brinson has been honored with the coveted Image Award from a previous brokerage firm. Charlene enjoys spending time with her husband Keith and entertaining family and friends. |
| | | |
| | | Judith Hamilton has over 10 years experience with Sunrise Company. Practically a desert native, Judith is originally from Kentucky, and has lived and raised her family in the Coachella Valley since 1990. You'll find Judith to be positive, enthusiastic and ready to help you with all of your Toscana real estate needs. "My goal is to exceed your expectations when it comes to customer service and work with you to achieve the best results for you." Judith's commitment to service and her ability to get the deal done have resulted in many sales that would have never happened without her. Rising early each morning Judith practices Yoga daily and focuses on a healthy desert lifestyle. She enjoys spending time with her six grandchildren. |
| | | |
| | | Linda Menne has over 18 years experience in private club memberships and has been at Toscana since it opened. Prior to joining Toscana, Linda was the Membership Sales Manager at PGA West. She also has sold luxury real estate in many different markets across the United States. Linda is actively involved in every aspect of the real estate sales process and is here to assist both sellers and purchasers with their real estate needs. As our prior Membership Director, Linda is intimately familiar with all aspects of the Club and the lifestyle choices it offers. In her leisure time, Linda is an avid horsewoman and enjoys spending time with her husband Dave. |
| | | |
| | | Originally from Atlanta, Georgia, Jamie Shelton began his career as a golf professional before entering luxury real estate sales over 20 years ago. Jamie has enjoyed a highly successful career in luxury real estate sales in golf communities from the East Coast of the United States to Hawaii. Before joining Toscana, he was employed at Hokulia in Hawaii. In addition, his career includes ten years of resort sales with the George P. Mitchell Family, the original developer of The Woodlands in Texas and Bald Head Island in North Carolina. What makes Jamie an exceptional Sales Executive is that he earns the trust of his clients by taking their best interests to heart. An avid golfer and PGA Member, he and his wife Melanie enjoy playing the game in their leisure time. |
Sales & Membership Team
.
Our staff is always available to provide you with any information and assistance.
Please contact them at 760.772.7000 or their email below.
If your property is currently listed with another broker, this is not intended to be a solicitation for a listing.