38 Sales in 2015!
Warren W. Smith
Vice President of Sales

It is exciting to see the continued interest in Toscana even during the warm summer days. We've had a total of 37 sales in 2015 with 18 resale homes and 20 new homes.

We have some great values as shown below in our Available Properties in addition to some wonderful new Sunrise Signature Homes that have just been completed.

Jack Nicklaus Makes Final Adjustments on New Golf Holes
On an unusually cool and rainy day in May, Jack Nicklaus visited the final eight holes of the North Course. Jack along with his team and the Sunrise team reviewed each hole including the changes he had made on his last visit. He also carefully looked at each green and made adjustments. He is very happy with the final holes and the construction progress.

To see the aerial video of the new holes and photos from Jack's visit, see the video below.

Show Home Remodel Project
Three of the Show Homes are a getting a brand new look that will be unveiled in November! The renovations will include floorplan changes along with new flooring, cabinets, countertops, furnishings, art and accessories.

In the 621, changes include updating the great room media wall to accomodate large TV's and a new layout for the master bathroom. Click here to see the new plan.

The 623 has the most dramatic changes with the wall removed between the kitchen and dining room, a large "L"-shaped island added, the soffits over kitchen and wet bar removed and new niches in the living room. Click here to see the new plan.

The master bathroom layout in the 723 has been improved. Click here to see the new plan.

Please note these Show Homes are closed during the renovation but can be viewed online on our Virtual Show Homes. The other seven Show Homes are open all summer.
JUST SOLD!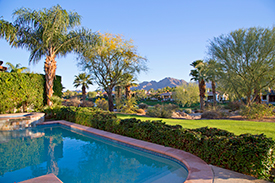 76-149 Via Volterra ▪ 601 Early California
.
PORTFOLIO OF LISTINGS
Listings
Here are two featured listings - click to view additional photos.
76-183 Via Chianti ▪ 623 Early California
4,064 Square Feet ▪ $1,945,000


76-258 Via Uzzano ▪ 621 Early California
3,260 Square Feet ▪ $1,695,000


Available Properties
Please click here to see all the properties available through the Toscana Sales Center.
.
Meet the Toscana Experts!
| | | |
| --- | --- | --- |
| | | Warren Smith has an extensive 30 year record of luxury real estate sales, community development and operations and is a 17-year Sunrise Company veteran. Warren started his career as a golf professional with Sunrise Company and rose to become Senior Vice President of Club Operations. He then spent 10 years as Vice President of Bighorn in Palm Desert overseeing all development, sales and club operations. For the past eight years, Warren was the President of Pine Canyon Club in Flagstaff, an award-winning golf community, where he was responsible for all operations including an active sales program. He brings a wealth of knowledge of the luxury market and a proven track record of leadership and results. Warren and his wife Cathy live at Toscana and have two grown sons and five grandchildren. |
| | | |
| | | Judith Hamilton has been a Sales Executive with Sunrise Company since 1999. Practically a desert native, Judith is originally from Kentucky, and has lived and raised her family in the Coachella Valley since 1990. You'll find Judith to be positive, enthusiastic and ready to help you with all of your Toscana real estate needs. "My goal is to exceed your expectations when it comes to customer service and work with you to achieve the best results for you." Judith's commitment to service and her ability to get the deal done have resulted in many sales that would have never happened without her. Rising early each morning Judith practices Yoga daily and focuses on a healthy desert lifestyle. She enjoys spending time with her seven grandchildren. |
| | | |
| | | Linda Menne has over 20 year's experience in private club memberships and has been at Toscana since the opening in 2004. Prior to joining Toscana, Linda was the Director of Member Services and Membership Sales Manager at PGA West. Born and raised in New Hampshire, she also has sold luxury real estate in many different markets across the United States. Linda is actively involved in every aspect of the real estate sales process and is here to assist both sellers and purchasers with their real estate needs. As our prior Membership Director, Linda is intimately familiar with all aspects of the Club and the lifestyle choices it offers. In her leisure time, Linda is an avid horsewoman and you can usually find her at the barn on the back of her horse. |
| | | |
| | | Dudley Latham has a 20 year background in the real estate industry. Dudley's real estate career began with his own mortgage company in Orange County, CA. After moving to the Desert in 1995, he changed his direction to working with developers and was regional sales manager and vice president for one of the largest new home sales and marketing companies in the Nation. Dudley's comprehensive experience encompasses real estate sales, management and marketing of a wide range of properties including country club communities and premium custom built estates. Dudley enjoys spending time with his wife Laura and their two children, Daniel and Danna, and is passionate about golf. |
| | | |
| | | Andy Ford has over 20 years experience in the golf and private club industry. Prior to joining Toscana, Andy was a Sales Executive with the DMB Realty Network team at Forest Highlands in Flagstaff, AZ. In the golf industry since 1987, Andy is a PGA professional and was the Director of Golf at Pine Canyon Club in Flagstaff, AZ and the Head Golf Professional at The Vintage Club in Indian Wells, CA. Andy's experiences offer his clients the assurance that he understands their needs and what they are looking for in a luxury community. He understands all aspects of the luxury lifestyle and has a vested interest in the happiness of his clients. Andy and his wife, Angelica, enjoy outdoor activities including golfing, hiking and biking. |
Sales & Membership Team
.
Our staff is always available to provide you with any information and assistance. Please contact them at 760.772.7000 or their email below.
If your property is currently listed with another broker, this is not intended to be a solicitation for a listing.