It is exciting to see the continued interest in Toscana even during the warm summer days. We've had a total of 37 sales in 2015 with 18 resale homes and 20 new homes.
We have some great values as shown below in our Available Properties in addition to some wonderful new Sunrise Signature Homes that have just been completed.
Jack Nicklaus Makes Final Adjustments on New Golf Holes
On an unusually cool and rainy day in May, Jack Nicklaus visited the final eight holes of the North Course. Jack along with his team and the Sunrise team reviewed each hole including the changes he had made on his last visit. He also carefully looked at each green and made adjustments. He is very happy with the final holes and the construction progress.
To see the aerial video of the new holes and photos from Jack's visit, see the video below.
Show Home Remodel Project
Three of the Show Homes are a getting a brand new look that will be unveiled in November! The renovations will include floorplan changes along with new flooring, cabinets, countertops, furnishings, art and accessories.
In the 621, changes include updating the great room media wall to accomodate large TV's and a new layout for the master bathroom. Click here to see the new plan.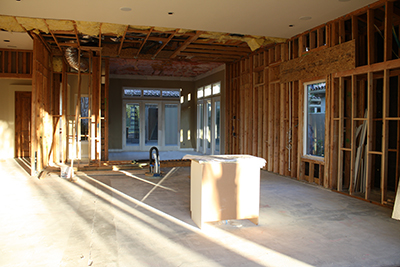 The 623 has the most dramatic changes with the wall removed between the kitchen and dining room, a large "L"-shaped island added, the soffits over kitchen and wet bar removed and new niches in the living room. Click here to see the new plan.
The master bathroom layout in the 723 has been improved. Click here to see the new plan.
Please note these Show Homes are closed during the renovation but can be viewed online on our Virtual Show Homes. The other seven Show Homes are open all summer.