Happy New Year! 2015 was a wonderful year with 47 home and homesite sales and we are looking forward to a great 2016. With the rush of the holidays now finished, we are extending the deadline for registration to bid on Homesites 9, 10 and 11 on Via Livorno AND we are releasing Homesites 1-6 on Via Livorno for bidding.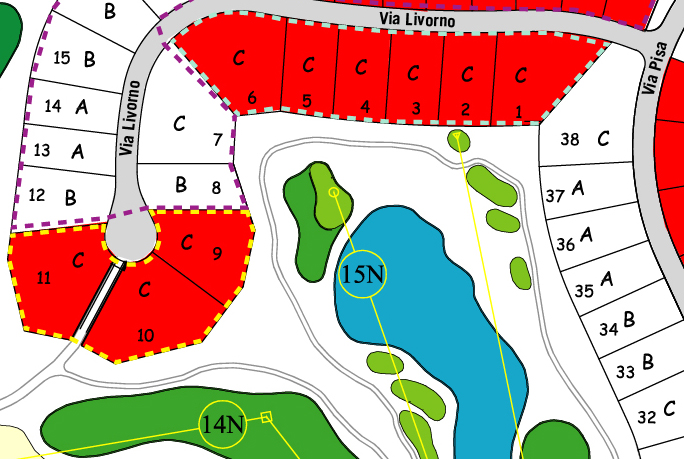 These select homesites on Via Livorno have stunning golf, lake and mountain views and are some of the finest in the entire community. Since we started pre-sales in 2003, we have had interest in these select homesites that has continued through the years. To ensure Members all have the same opportunity to purchase these homesites, we will be using a bid procedure.
As we have done in past releases, we will be giving current Members the first opportunity and extending this priority to any friends and family that you know are interested in purchasing at Toscana (please note - you will need to register any referrals as noted below).
Starting J‌anuary 2‌0, 2‌016 we will be offering the following Cortona (900 Series) homesites for bidding.
HOMESITE 9: $1,650,000 • BROCHURE • VIDEO
HOMESITE 10: $1,950,000 • BROCHURE • VIDEO
HOMESITE 11: $1,550,000 • BROCHURE • VIDEO

HOMESITE 1: $1,350,000 • BROCHURE
HOMESITE 2: $1,425,000 • BROCHURE
HOMESITE 3: $1,475,000 • BROCHURE
HOMESITE 4: $1,395,000 • BROCHURE
HOMESITE 5: $1,325,000 • BROCHURE
HOMESITE 6: $1,350,000 • BROCHURE
For more information on the homesites and bid process, please click here. The bids will be accepted online only. If you are interested in placing a bid on one of these homesites, click here to register yourself and/or any referrals online by F‌riday, Janu‌ary 15.
After you have registered, you will receive a confirmation email and be contacted by a Sales Executive to review the process in detail. If you currently do not have a username and password for the Toscana website, you will be sent information on how to register for the website. You will not be able to logon to the web page to place a bid if you do not have a username and password. If you need assistance registering, please contact Julie Bloom, Vice President of Marketing at 760-404-1444 or jbloom@sunriseco.com.
Please contact myself or any of our Sales Executives listed below at 760-772-7000 for more information on this release.
Warren Smith - wsmith@toscanacc.com
Linda Menne - lmenne@toscanacc.com
Dudley Latham - dlatham@toscanacc.com
Judith Hamilton - jhamilton@toscanacc.com
Andy Ford – aford@toscanacc.com