Warren Smith, Vice President of Sales

Warm days, balmy evenings, the BNP is in full swing and the Club is bustling with activity... this is the time to be in the Desert! The Sales Center is bustling with guests touring the Show Homes and available properties.

Our Design Center and Construction team is very busy with 26 homes currently under construction including 23 homes for homeowners and three signature homes. It is wonderful to drive around the community and see so much construction activity!
To register your clients at Toscana, please click here.

12 SALES IN 2016
5 New Sales
7 Resales
26 Homes Under
Construction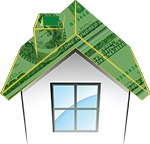 We have a great program in place to reward Realtors for selling new to-be-built homes: you will be paid a 3% commission on the price of the homesite and the base price of the home at the homesite closing, NOT at the end of construction.