We are delighted that you will be attending our Guest Weekend at Toscana! We hope you enjoy all of the activities that are planned for the weekend including golf and spa treatments. Get ready for a fun evening at our Viva Las Vegas party on Friday night where we will have gambling, great food, music and dancing! I encourage you also to drop by the Model Homes at any time during your visit. We will have a special open house at the Sales Center all day on Sunday, February 9 starting at 9:00 am.
We invite you to experience Toscana by viewing the video below along with quick links to our website. You can also click here for the Toscana e-brochure. Please contact me if you like to receive any specific information about Toscana prior to your visit.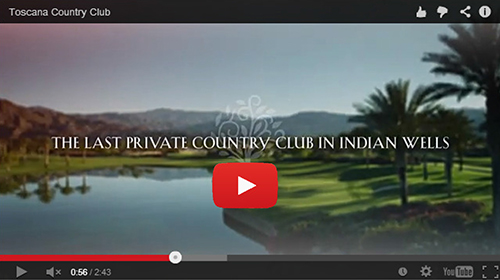 Please visit our website to learn more about our fabulous Club and community. Below are some quick links to a few pages that may be of interest to you.
QUICK Website LINKS
I look forward to meeting you and please do not hesitate to contact me at 760-772-7000 or lmenne@toscanacc.com. It will be my pleasure to assist you in any way. The Sales Center and our ten show homes are open daily from 9:00 am to 5:00 pm.
Sincerely,
Linda Menne
Sales Executive